Shockwave Therapy in Woodstock NY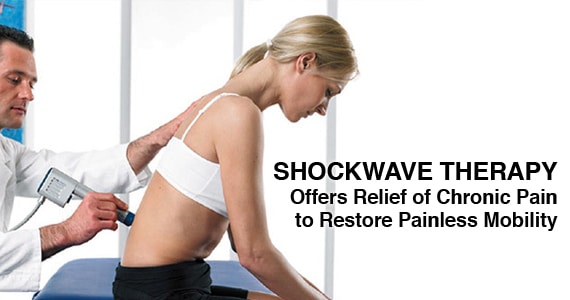 I'm excited to announce that we are now using Radial Shock Wave Therapy (rESWT) in our office to treat muscle and ligament injuries and pain. This "cutting edge" Regenerative Chiropracticsm technology is the most advanced and highly effective non-invasive treatment for neuromuscular disorders approved by the FDA. This proprietary technology is based on a unique set of pressure waves that stimulate the metabolism, enhance blood circulation and accelerate the healing process. Damaged tissue gradually regenerates and eventually heals.
Radial Shock Wave Therapy is an extremely effective and non-invasive solution to pain associated with the musculoskeletal system. It delivers a series of high-energy percussions to the area being treated. These are NOT electric shocks, but physical/mechanical pulses that travel through the tissue being treated.
---
WHAT ARE THE EFFECTS?
Radial Shock Wave Therapy has clinically been shown to:
Help eliminate pain
Facilitate healing
Improve local microcirculation leading to improved tissue metabolism
Increase production of collagen
Reduce local muscle tension
Help dissolve calcific deposits
Help reduce Substance-P (a pain producing chemical)
---
HOW LONG DOES EACH TREATMENT TAKE?
Each session takes approximately 5 to 10 minutes. During this time 2000 to 3000 pulse waves are delivered into the area being treated, over a 5 to 10 minute period. 3 to 5 treatments are generally needed, with 5 to 10 days between treatments.
---
WHAT IS THE SUCCESS RATE OF SHOCKWAVE TREATMENT?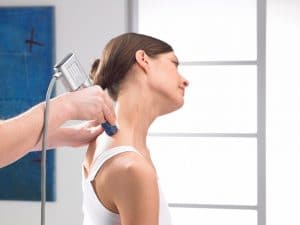 The worldwide reported rate of clinical success with Shockwave therapy is between 77%-80%. For those who do not respond favorably to the treatment, other modes of therapy and treatment should be considered and referrals will be made to the appropriate specialists.
---
DOES THE TREATMENT HURT?
Depending upon the level of pain you are experiencing in the area, there may be some discomfort during each treatment. However, most patients are able to easily tolerate the treatments, and treatments only last approximately 5 minutes. The intensity of the treatment can be adjusted to allow for some pain reduction at the beginning of each session.
---
WILL THERE BE PAIN AFTER THE TREATMENT?
Most patients will experience some immediate relief of pain following the treatment. However, within 2 to 4 hours they may experience soreness in the area. The soreness has been reported as being very tolerable and may last a few hours to several days. If you do experience this soreness, DO NOT use ice on the area. Since one of the desired effects of Shockwave treatments is the "inflammatory response"; the use of anti-inflammatory medications (such as Ibuprophen, Motrin, Aleve, Advil, etc.) is not recommended. Many patients have reported very good results using Tylenol. You may choose to take medication as you see fit or based upon your Medical physicians recommendation and guidance. The soreness is typically gone within 4 to 24 hours without any form of intervention.
---
DOES INSURANCE COVER THE TREATMENTS?
Regrettably, this service is NOT covered by insurance and all treatment sessions must be paid for by the patient. The cost for shock wave treatments is $60.00, in addition to the cost for the office visit.
Dr. Rosenblum is a proud member of the International Society For Medical Shockwave Treatment.
Monday
10:00am - 1:00pm
3:00pm - 7:00pm
Tuesday
Closed
Wednesday
10:00am - 1:00pm
3:00pm - 7:00pm
Thursday
Closed
Friday
10:00am - 1:00pm
3:00pm - 7:00pm
Saturday
Closed
Sunday
Closed